Quality Inn Atchison
39.554848

,

-95.128185
Atchison

,

United States

|
99US$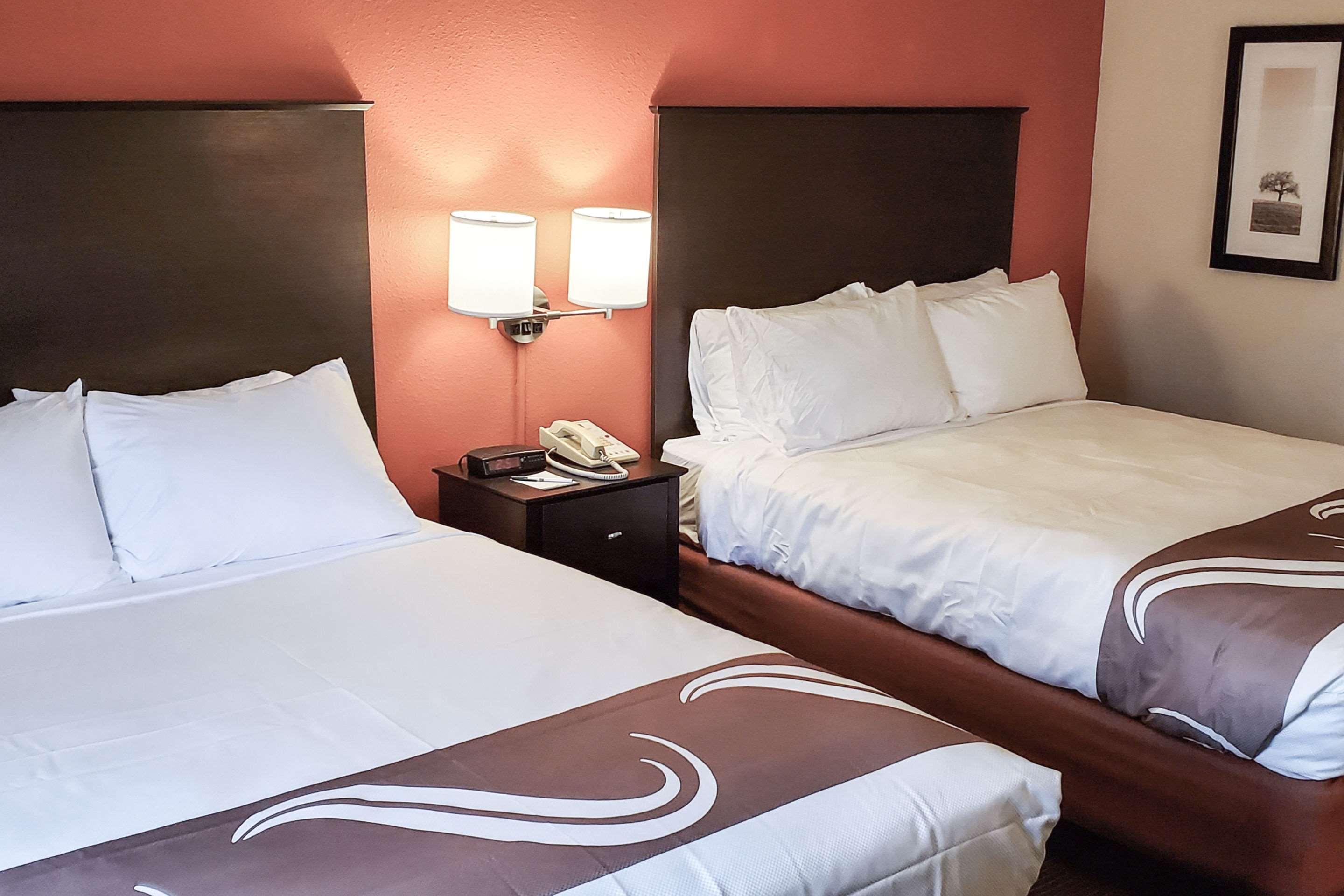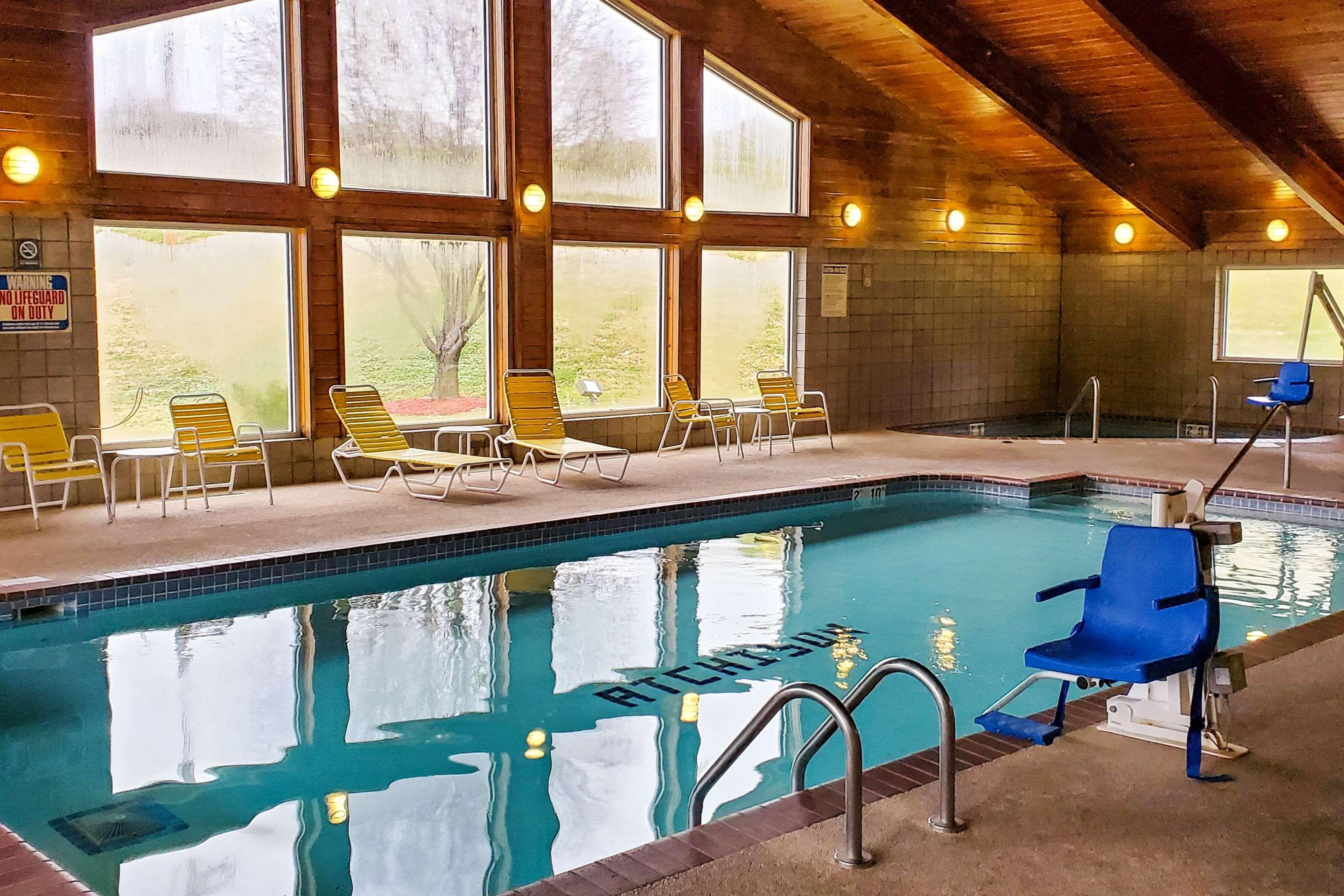 Address
500 Us Highway 73
,
Atchison
,
Kansas
,
United States
,
66002
, Kansas
Pros and Cons
PROS
Convenient setting close to everything.
Set a few steps away from Amelia Earhart Memorial Bridge.
Well-maintained clean property.
Placed in a gorgeous building.
Show all Pros (9)
Show less
CONS
Some guests complained about the beds being a little small.
Overview
Quality Inn Atchison is a cozy 3-star property set around 1.7 miles from Atchison Hospital and within 1.2 miles of Amelia Earhart Birthplace Museum. This smoke-free hotel is placed 5 minutes' drive away from the carriage house "Cray Historical Home Museum", and provides guests with a Jacuzzi, a sauna and an indoor pool.
Location
The center of Atchison can be reached within 15 minutes' walk of the hotel. The Quality Inn is off Muchnic Art Gallery and is within a 55-minute drive of Kansas City. Nature lovers will appreciate proximity to the 5-acre International Forest of Friendship Park, which is 10 minutes away by car.
The cozy Quality Inn Atchison is located 35 miles from Kansas City International airport.
Rooms
The 45 units at this pet-friendly property are non-smoking, some of them have a stone fireplace along with a mini fridge bar and a coffeemaker. Some units are fitted with a private bathroom with a roll in shower and an additional toilet.
Eat & Drink
A free breakfast is available in the morning. Guests will find the pizzeria Pizza Hut around a 5-minute walk away.
All visitors are offered a american breakfast for a fee. 
Internet
Wireless internet is available in the entire hotel for free.
Guest Parking
Public parking is possible at a location nearby for free.
Number of floors:   21.  Number of rooms:   45.
Former name: Americinn By Wyndham Atchison
Best-Rated Quality Inn Hotels around Atchison
For the savvy traveler who seeks a balance of quality and affordability, the hotel brand Quality Inn is the ideal choice. With its exceptional service, convenient amenities, and prime locations, guests can trust that their stay will be nothing short of comfortable and enjoyable. From complimentary breakfast to sparkling swimming pools, Quality Inn delivers a top-notch experience for guests seeking ultimate value.
18 reviews

77$ / night

23 reviews

59$ / night

16 reviews

46$ / night

15 reviews

59$ / night

25 reviews

64$ / night

29 reviews

104$ / night

1 review

88$ / night

57 reviews

58$ / night
Most Booked Hotels for Your Next Trip
Facilities
Most popular facilities
24-hour services
24-hour reception
24-hour security
General
Wi-Fi
Parking
Baggage storage
24-hour services
Fitness/ Gym
Swimming pool
Spa and relaxation
Laundry
Sports & Fitness
Fitness center
Skiing
Hiking
Tennis court
Golf course
Services
Housekeeping
Laundry
Tours/Ticket assistance
Wake up service
Business
Exhibition space
Fax/Photocopying
Children
Children's buffet
Board games
Game room
Spa & Leisure
Swimming pool
Beach umbrellas
Sun loungers
Leisure/ TV room
Sauna
Jacuzzi
Room features
Air conditioning
Heating
Mini-bar
Soundproofed rooms
Garden furniture
Tea and coffee facilities
Ironing facilities
Good to know
Check-in
from 15:00-23:59
FREE
Check-out
until 11 am
FREE
Pets
Pets are allowed on request.
Rooms and availability
King Suite Accessible or Non-Smoking

Bed options:

Room size:

240 sq. feet

Max:

2 persons
Heating

Fireplace

Air conditioning
Queen Room Two Queen Beds Non-Smoking

Bed options:

Room size:

230 sq. feet

Max:

4 persons

Bed options:

Room size:

230 sq. feet

Max:

2 persons
Location
500 Us Highway 73
,
Atchison
,
Kansas
,
United States
,
66002
, Kansas
City landmarks
Nearby
Restaurants
Hotels nearby
Museum
Amelia Earhart Birthplace Museum
1.2 mi
Bridge
Amelia Earhart Memorial Bridge
2400 ft
Gallery
Muchnic Art Gallery
1.1 mi
Atchison
Astronauts' Memorial
2100 ft
Public Building
Atchison County Courthouse
4800 ft
805 N 5th St
Evah C. Cray Historical Home
1.3 mi
Museum
Amelia Earhart Birthplace
1.3 mi
Park
Riverfront and Independence Parks
1.3 mi
Museum
Cray Historical Home Museum
1.3 mi
Church
St. Benedict's Church
1.4 mi
1020 N 2nd St
St. Benedict's Abbey
1.7 mi
Park
International Forest of Friendship
1.8 mi
178620 274th Rd Located west of Atchison overlooking Warnock Lake
Amelia Earhart Earthwork
3.9 mi
Restaurant
Daisy House Atlantic
3000 ft
Getting around
Airports
Kansas City International

(MCI)
32.9 mi
Charles B. Wheeler Downtown (MKC)
47.7 mi
You can book a shuttle, once your reservation is complete.
Reviews of Quality Inn Atchison
Daniel

This hotel is conveniently located close to everything, making it easy to explore the area. The breakfast was great, with plenty of options to choose from. The view from the rooms is stunning and adds to the charm of the hotel. The leisure facilities were a welcome addition, including a pool and sauna. As vegetarians, we appreciated the variety of options available to us at breakfast.

The staff could have been more attentive to safety protocols, such as wearing masks, which was disappointing.

Susan

I had a great stay at this hotel on my recent trip to this city. The staff, who were very kind and attentive, made it easy for me to check in and provided clear instructions on how to access the internet. The location was perfect, as it was located near the monastery on the highway, making it very easy to reach the downtown area. I enjoyed the breakfast, which had a variety of options, including plenty of coffee, and the area was clean. The pool area was also nice with warm water. The hotel room was comfortable, and the shower had hot water.

Not obvious to find.

Emily

Great complementary breakfast and coffee, plus appreciated the free parking and Wi-Fi. The location was also good and close to all the major attractions.

The room was starting to look worn and outdated, plus there was some noise from other guests throughout the night that was bothersome. Despite this, overall it was a decent stay for the price.

David

The breakfast was okay and the bed was comfortable enough. The location was convenient for getting to the Easter festivities. Also, there was plenty of hot water for our morning showers and the TV had decent channels.

The carpet in our room was stained and the air conditioning unit was so loud we had to turn it off during the night. The walls were incredibly thin; we could hear our neighbor snoring. the hotel seemed outdated and in need of renovation. In addition, the staff was unfriendly and uninterested in helping us with anything.

Michael

Staff were friendly and the breakfast was good. The hotel had a great location near popular shopping and dining spots. They also had a nice pool area.

The rooms were not clean and the beds were uncomfortable. The elevators were not working properly and there were safety concerns when using them. the hotel was not worth the price and we would not stay here again.

missing

Breakfast was very good, always fresh and hot.

Wi-Fi didn't work in the room, but I was offered immediately to change the room. So that was solved promptly.
FAQ about Quality Inn Atchison
How far is Quality Inn Atchison from the city center?
Atchison city center is reachable within a 15-minute walk from Quality Inn Atchison.
What landmarks can I find in vicinity of the Quality Inn?
Staying in the Quality Inn, you shouldn't miss Atchison's main landmarks such as Atchison Hospital (1.7 miles), the carriage house "Cray Historical Home Museum" (1.3 miles) as well as Amelia Earhart Birthplace Museum accessible with a 5-minute drive.
Is there parking at the 3-star Quality Inn Atchison?
Yes, the 3-star Quality Inn Atchison features a parking lot available nearby.
What are our dining options during the stay in Quality Inn Atchison?
Unfortunately, Quality Inn Atchison doesn't have on-site restaurants, but guests can dine in Pizza Hut and Young Dragon restaurants placed within a 5-minute walk from the property.
What time is check-in and check-out at the Atchison hotel?
Guests of the Atchison hotel can check in from 3 PM to 11.59 PM and check out from 11 AM.
Which amenities are included in the rooms of the Atchison hotel?
Some suites at the Atchison hotel boast a stone fireplace, a couch and a work desk as well as private bathrooms which include a roll in shower and an additional toilet.
Does Quality Inn Atchison offer facilities for business travelers?
Quality Inn Atchison conveniently features a photocopier and a desk as well as meeting rooms and a conference space on-site.
What sport activities at Quality Inn can I take part in?
Guests of Quality Inn can stay fit with fitness classes and an indoor pool or attend snow skiing and hiking organized by the property.
What spa facilities does Quality Inn Atchison offer?
Spa facilities in Quality Inn Atchison include a Jacuzzi, a sauna and an indoor pool.